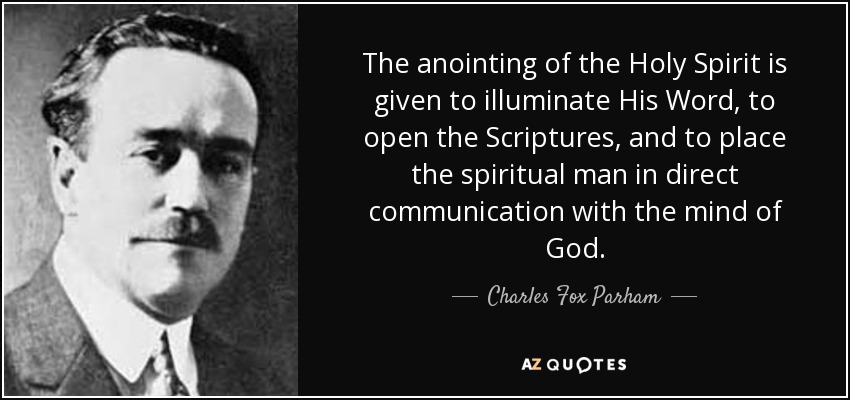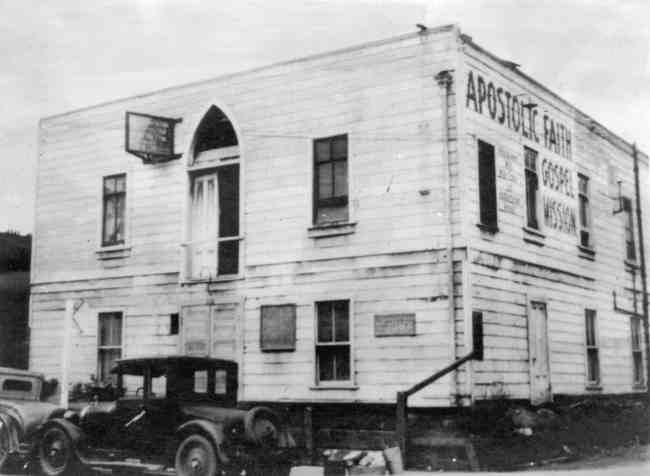 AZUSA STREET MISSION - LOS ANGELES, CALIFORNIA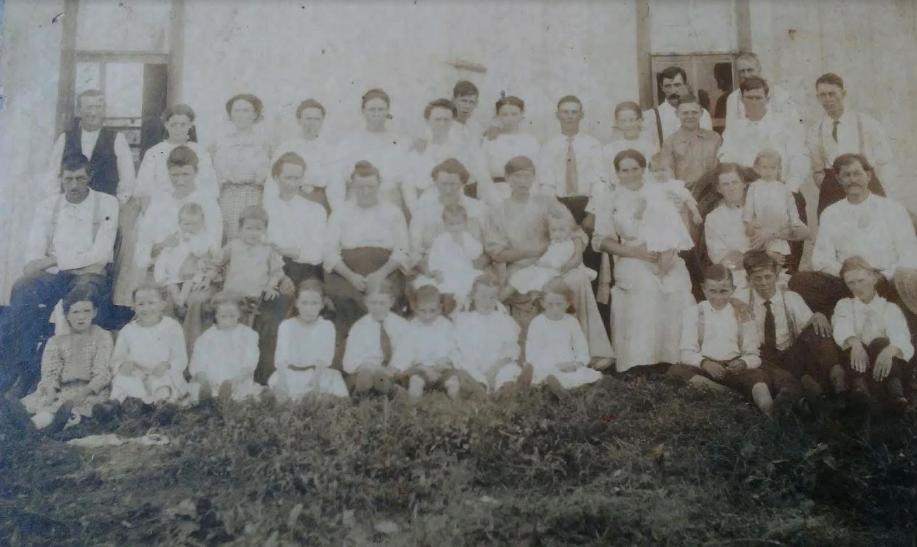 PICTURED ABOVE ARE THE CHARTER MEMBERS OF HOWE ASSEMBLY OF GOD AND THEIR FAMILIES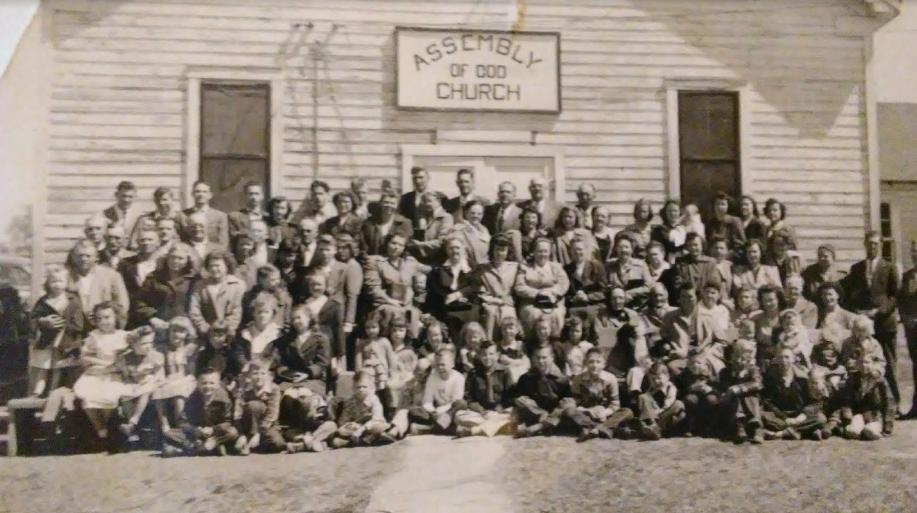 ON THIS PARTICULAR SUNDAY, THERE WERE A RECORD 100 PEOPLE IN SUNDAY SCHOOL ON MARCH 23, 1952
IN THE THREE PICTURES BELOW, CONSTRUCTION IS UNDERWAY ON THE NEW CHURCH, WHICH TODAY SERVES AS THE AUDITORIUM FOR THE HOWE ASSEMBLY CHILDREN'S MINISTRY.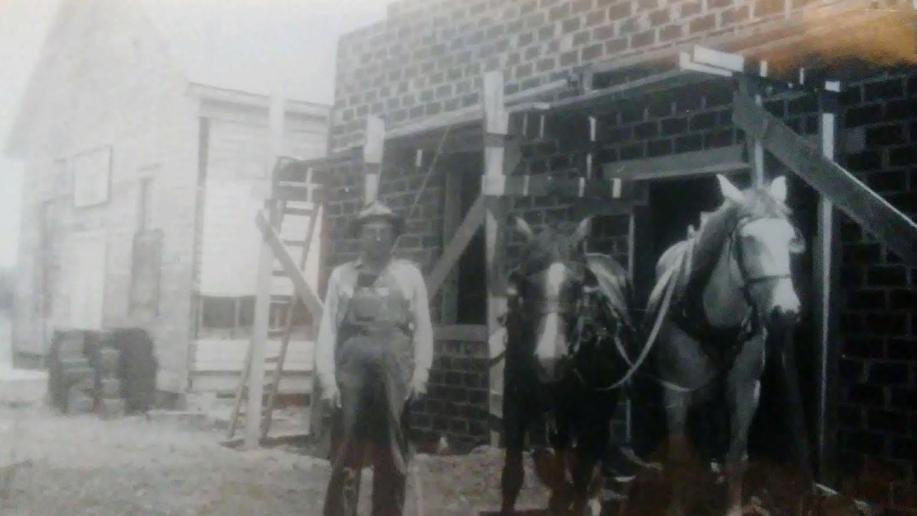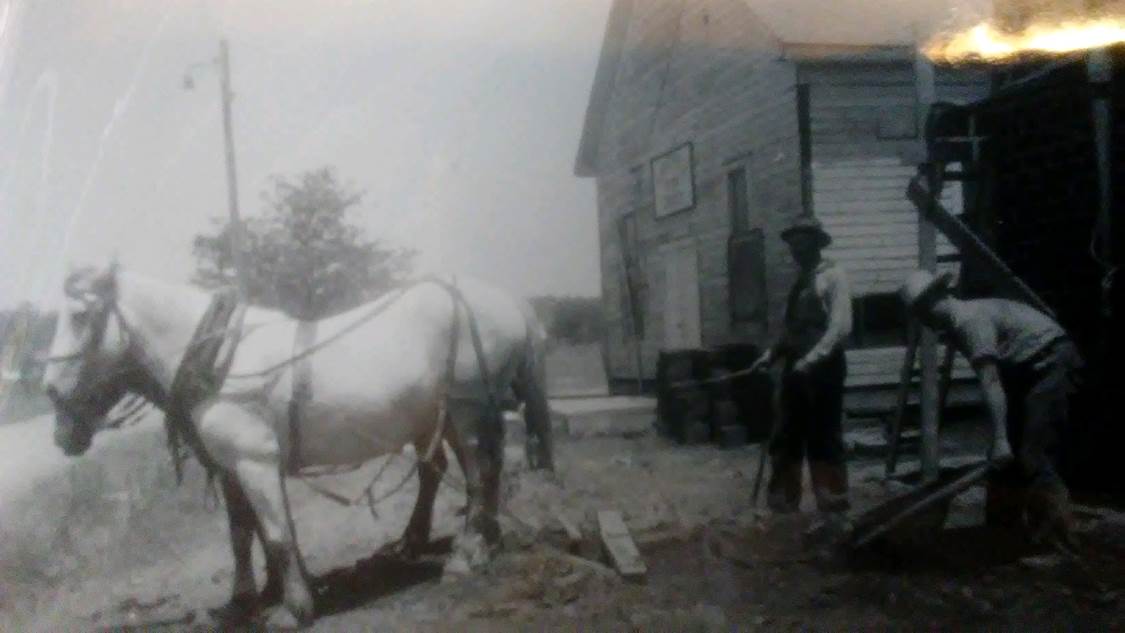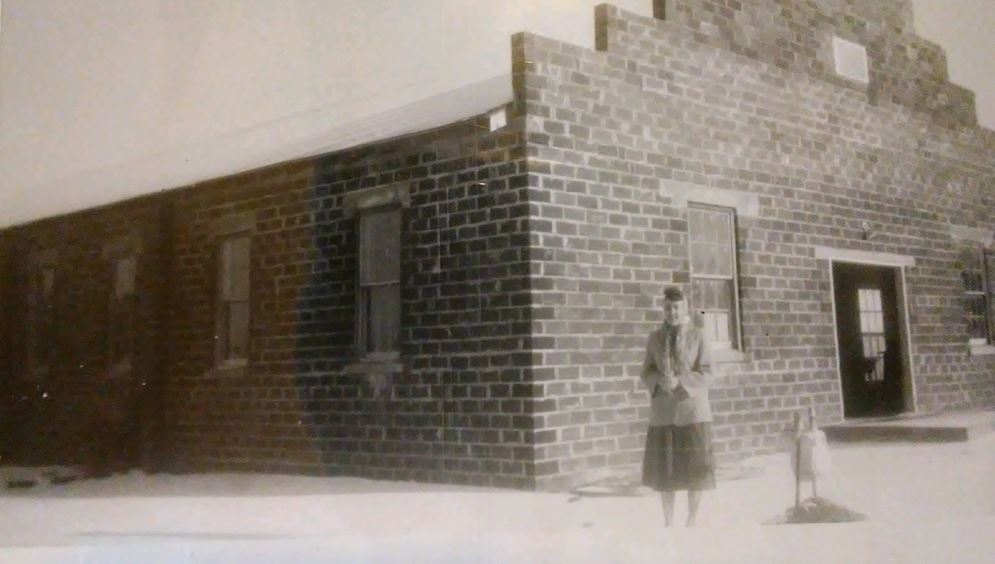 "TO GOD BE THE GLORY, GREAT THINGS HE HAS DONE.......
THOUGH THE PAST BE GLORIOUS, THE BEST IS YET TO COME!"
THE HISTORY OF FIRST ASSEMBLY OF GOD - HOWE, OKLAHOMA
Throughout the latter half of the 19th century in the United States, Protestants from various backgrounds began to ask themselves why their churches did not seem to exhibit the same vibrant, faith-filled life as those in the New Testament. Many of these believers joined evangelical or Holiness churches, engaged in ardent prayer and personal sacrifice, and earnestly sought God. It was in this context that people began experiencing Spiritual gifts.
Pentecostal pioneers were hungry for authentic Christianity, and they looked to previous spiritual outpourings, such as the First Great Awakening (1730s-40s) and Second Great Awakening (1800s-30s), for inspiration and instruction. They identified themselves in the tradition of reformers and revivalists such as Martin Luther, John Wesley, and Dwight L. Moody.
One of the focal points of the emerging Pentecostal movement was known as the Azusa Street revival (1906-09). It was an unlikely location for an event that would change the face of Christianity. In the summer of 1906, revival erupted in the newly formed congregation meeting at the small run down Apostolic Faith Mission at 312 Azusa Street in Los Angeles, California. Critics attacked the congregation because its mild-mannered African-American Holiness preacher, William J. Seymour, preached racial reconciliation and the restoration of Biblical Spiritual gifts. The revival soon became a local sensation, then attracted thousands of curiosity seekers, and pilgrims from around the world.
Seymour had been a student of Charles Parham, who provided the doctrinal framework for the young Pentecostal movement. Parham's identification in scripture of speaking in tongues as the "Bible evidence" (later called the 'initial evidence') of Spirit Baptism became the defining mark of the emerging Pentecostal movement. After students at his Bethel Bible School in Topeka, Kansas, began speaking in tongues at a prayer meeting on January 1, 1901, Parham, thought his Apostolic Faith Movement, had some success in promoting the restoration of the gift of tongues. While the Apostolic Faith Movement was largely confined to the south central United States, the revival at Azusa Street catapulted Pentecostalism before a worldwide audience.
After the turn of the 20th century, Pentecostal revivals began to take place in Leflore County, Oklahoma. Among those revivals was a revival being held in Howe, Oklahoma by Brother Carbell, Brother Fayette Remines, Brother Bruce David, Brother Willie Welcher, Brother Parks, Brother Gattin and many others. Also revivals were conducted by Brother Jake Miller, who at the time was Pastor of First Assembly of God in Van Buren, Arkansas.
On March 24, 1919 under the direction of Brother Bruce David, the Pentecostal Church at Howe became affiliated with the General Council of the Assemblies of God. The first Deacons were Bob Johnson, J. R. Phillips, and Jess Johnson. The first church building was built on a Hill beyond the south end of Texas Avenue. In 1920 the building was raised, and moved to the church's current location. During this time of transition, a five-week revival was conducted by Bro. Morris from Chicago and continued by Brother Adams, Brother Peppas, and others. During this revival there was a water baptism at the Poteau River and Polk creek. According to early church members, these water baptism were attended with an " extremely large crowd."
When the church building was complete in 1920 or 1921 a revival was conducted by Rev. C. A. Lassiter, who was pastor of Dodson Avenue Assembly of God (known today as Evangel Temple in Fort Smith.) That revival saw 43 conversions. Rev. Bruce David Resigned as Pastor to assume a role as District Presbyter in the early 1920s. A number of Pastors served for an unknown amount of time.
Pastors of First Assembly of God - Howe, Oklahoma
Rev. Bruce David (1919-?)
Rev. W. W. Parks
Rev. Lindsey
Rev. Pagit
Rev. Gray
Rev. Harne Woodard
Rev. Kern (December 30, 1933 - September 1936)
Rev. Taylor (September 24, 1936 - ?)
Rev. Nickles
Rev. Jones
Rev. Painter
Rev. W. W. Littles (May 23, 1938 - ?)
Rev Alvin Gilpin (September 9, 1940 - October 54, 1947) He served a 7 year tenure as Pastor
Rev Jiles
Rev. L. V. Woods (September 7, 1948 - November 13, 1949)
Rev. Collins
Rev. E. M. McKim (June 18, 1951 - ?)
Rev. Lester Earl (? - 1956)
Rev. Claude C. Boze (1956 - 1959)
Rev. Robert P. Corp (June 28, 1959 - July 31, 1960)
Rev. Simon Peters (August 14, 1960 - July, 1961) In 1961, a tornado hit the city of Howe causing significant damage through the city. The church Sanctuary received some damage. Pastor Simon Peters was in the Sanctuary at the time the tornado hit. He ran to the side door of the church and opened it just in time to see the parsonage lift from the foundation and roll through the property completely destroying the house. The Pastor's family was inside the house at the time. Miraculously they all lived including a son of the Pastor who was presumed dead. He was prayed over at the church and lived.
Rev. James Craig (August 19, 1961 - August 16, 1964)
Rev. B. R. Jones (August 30, 1964 - January 1966)
Rev. Moses Jones (1966 - September 1967)
Rev. John L. Beck (September 24, 1967 - March 1969)
Rev. Claude C. Boze (March 30, 1969 - April 1971)
Rev. Charles Parker (April 25, 1971 - May 27, 1975)
Rev. James L. Dodd Jr. (June 1975 - September 1979)
Rev. L. A. Ming (September 1979 - December 1983) 4 years tenure.
Rev. Ronald Martin (January 1, 1984 - March 17, 1985)
Rev. William Allen (May 5, 1985 - 1989)
Rev. Lonnie Andrea Ming (1990 - 2006) 16 years as Pastor. He served previously 4 years as Pastor. Together he has served a total of 20 years... the longest Pastoral Tenure in the History of Howe Assembly of God.
Rev. Jack Barron (2006 - 2015) He served as Pastor for 9 years. He oversaw the purchase of additional church property, acquisition of a new Parsonage, and construction of the current Sanctuary.
Rev. Daniel Brittain (2015 - 2018)
Rev. Daniel R. Watson (December 9, 2018 - Present) Within the first 13 months of pastoring, Howe Assembly's current pastor has led the church into a new era and technique of ministry. In January of 2019 Howe Assembly of God went online through their first website (howeag.com). All services are broadcasted live on Facebook and archived on youtube. The church has expanded their ministry to children, and launched a youth ministry. On the World Missions platform, the church has commissioned the construction of a Church and water-well in Africa.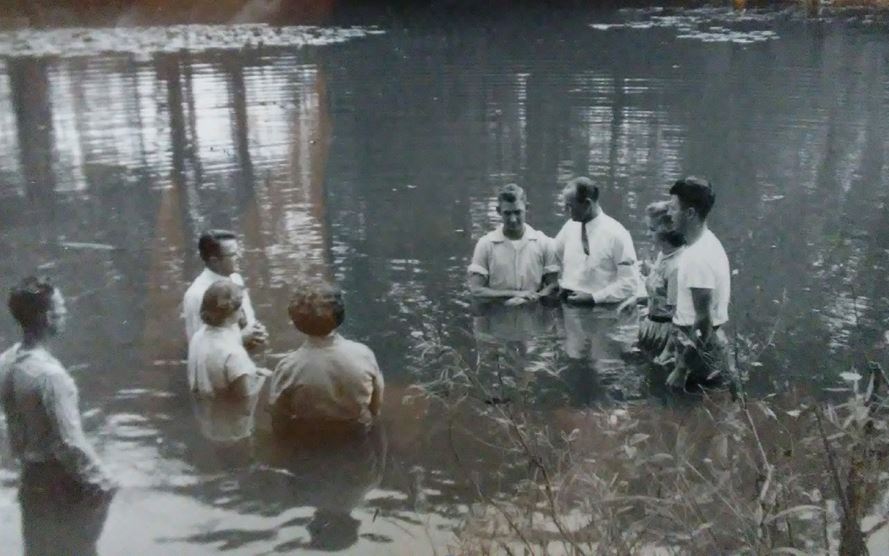 WATER BAPTISMAL SERVICE FROM THE 1950'S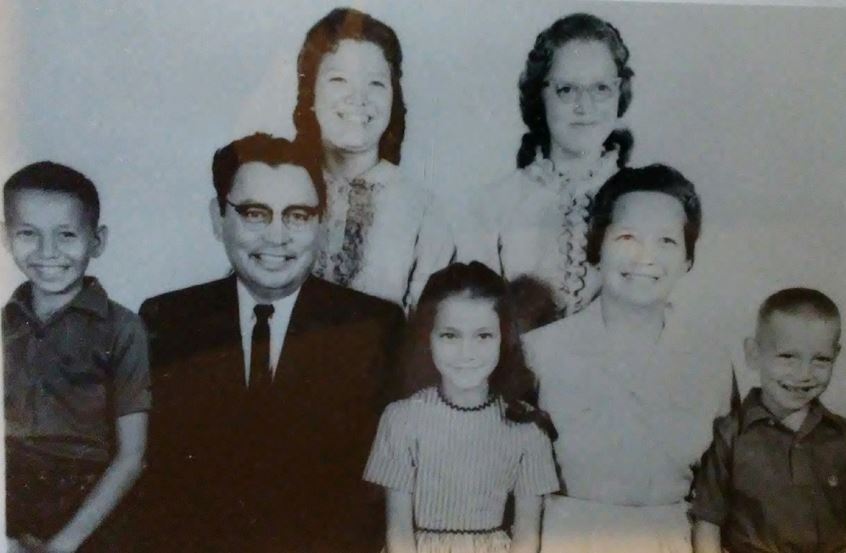 REV. SIMON PETERS WAS PASTOR DURING THE EARLY 1960'S WHEN THE CITY OF HOWE WAS HIT BY A TORNADO.
REV. JACK BARRON OVERSAW THE CONSTRUCTION OF OUR CURRENT SANCTUARY SEEN IN THE PICTURES BELOW.